Barkhor Street is located in Lhasa's heart, encircling the Jokhang temple in the old district of Lhasa. It is said that in 647, King Songtsen Gampo built the Jokhang temple. Jokhang is one of the first and old temples built in Tibet. Religiously, Barkhor Street is actually a one-way circled praying road around the Jokhang temple.
It is an essential pilgrim route. Most Tibetan are concentrated here because of the Jokhang temple. Due to its magnificence, it quickly attracted thousands of pilgrims. As a result, there are lots of guesthouses, shops, restaurants, etc. Hence that's how Barkhor Street originated. The Barkhor circuit of east street, west street, north street, and south street. This street retains the ancient Lhasa look.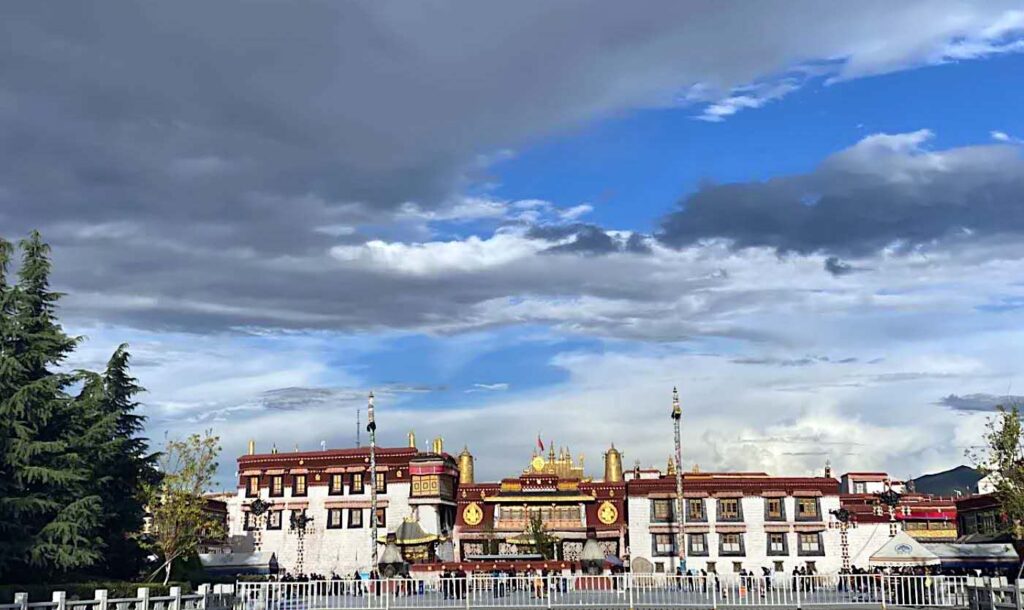 Jokhang temple
The 1300-year-old Jokhang Temple is the spiritual heart of Tibet. It was originally built to house a Buddha statue brought to Tibet as a dowry by King Songtsen Gampo's Chinese princess Wencheng. However, the Jowo Sakyamuni statue brought as a dowry by Nepali Princess was later moved to the Ramoche Temple. The statue gives the Jokhang both its name and its spiritual potency: Jokhang means 'chapel of the Jowo.'
The best time to visit the two-storied Jokhang Temple is in the morning. Though it's crowded in the morning, you get to see all the chapel. Access is possible in the afternoon, but only the ground-floor chapels are allowed to visit. Therefore, you'll see pilgrims getting up early in the morning to visit the temple. In front and around the Jokhang, you'll see Tibetans prostrating day and night, circumambulating or, as we Tibetan says, doing the kora while chanting mantras all the time.
I would personally suggest you go to Jokhang twice. One is in the morning to see inside the temple and one is late in the evening because the night view surrounding Jokhang is mesmerizing when all the lights are on.
Ancient Barkhor street
One says that you'll get to see the real Tibet around this ancient street. This area is a perfect way of experiencing Tibet, going with the crowd around the street, and shopping along the way. After visiting Jokhang, you must take time to go around the ancient street of Barkhor. You'll be surprised. It will be as though you are in a totally different space. Every day, crowds of traders and peddlers come to the street and set up their booths to sell exquisite hand-made commodities and a great number of shops with Tibetan characteristics open for business.
Cheese butter store
The first stop will be Tibetan cheese butter stores. The real authentic butter and Tibetan sweets, sour, tasteless, hard cheese made out of yak milk. There are about ten stores lined up. Even if you don't plan on buying it, I would suggest you taste it. You'll be amazed by its taste. It's very different from the cheese that you usually eat.
Standing market
You'll see tons of Tibetan in their traditional attire right along the street, standing and wearing different kinds of precious stones like coral, turquoise, amber, etc. That's why I call it the Tibetan standing market. If you carefully observe, you'll see them doing something with their hands, which is a way to tell the price or bargaining price.
It's an old way of doing business. Each finger has its own figure. Every day, people from different Tibetan regions would come there to do business. Whether you want to sell or buy, people carry precious stones, antiques, mala, and jewelry standing there for the whole day. This is the oldest way of doing business in Tibet. Just take a few minutes and submerge yourself among them; it's unique. You'll get to see an ancient way of doing business. 
Tea shops and Momo restaurant
After the standing market, you'll get to enjoy the small yet hot tea shops. I would not recommend any specific tea shops because most of them taste delicious. But I would say take a break from the heat and join any of the random tea shops for a quick tea break. You must try Tibetan butter tea, Tibetan sweet tea, and Bho-thuk (Tibetan noddle) if you walk into any shop. Tea shops around Lhasa are like a gossip girl, real housewife TV series you'll see not only the old but also the young ones gossiping on and on. You'll see the daily life of Tibetans, which is far more interesting than a TV series.
I would recommend a small restaurant specializing in Momo (dumplings). It's not very fancy but delicious and cheap. It's always crowded with lots of locals. If you get the time to make sure you get a taste, you won't regret it.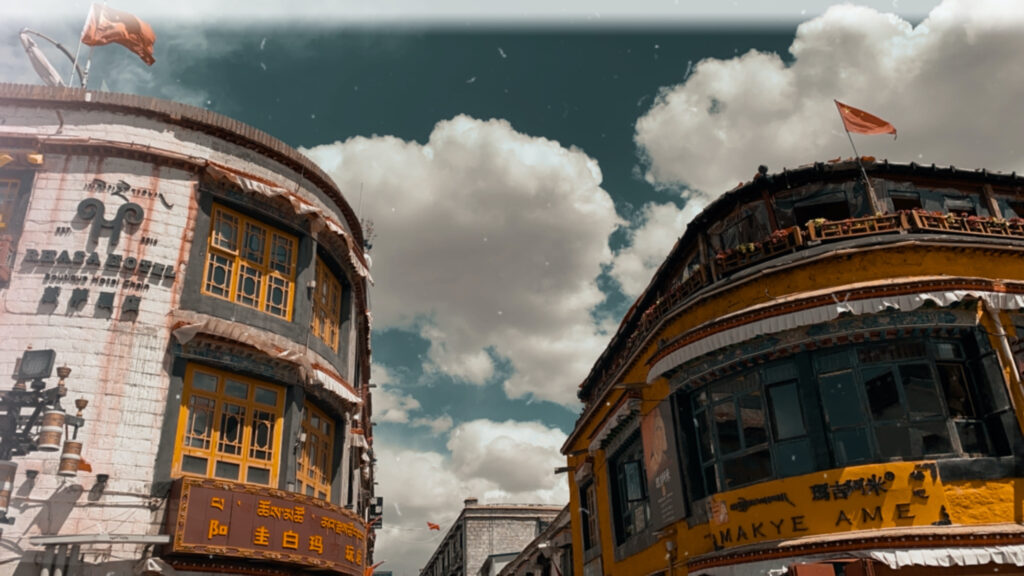 The Great Mosque in Lhasa
After a refreshing break, your next stop will be the great mosque. When thinking of Lhasa or Tibet as a whole, normally people would agree that Lhasa is a mysterious Buddhist area where local people believe in Buddhism. But in reality, it's quite diverse.
The great mosque is also called the Hebalin mosque and was first built in 1716. Muslim traders came from Arabs, Nepal, and India came around the 8th century. In the 12th century, more and more Muslim traders came to Lhasa and married local Tibetan girls who later converted to their husbands' religion – Islam. This area is located in the southeast of Barkhor Street.
Outside, the great mosque sure is a unique site. The whole area is a market for Tibetan caterpillar fungus, a medicine grown in the higher regions of the Himalayas. The old market dated back to the 18th century. Especially right after the caterpillar-fungus picking month, this place would be the busiest street; people from all parts of the Tibetan region come to sell their caterpillar fungus.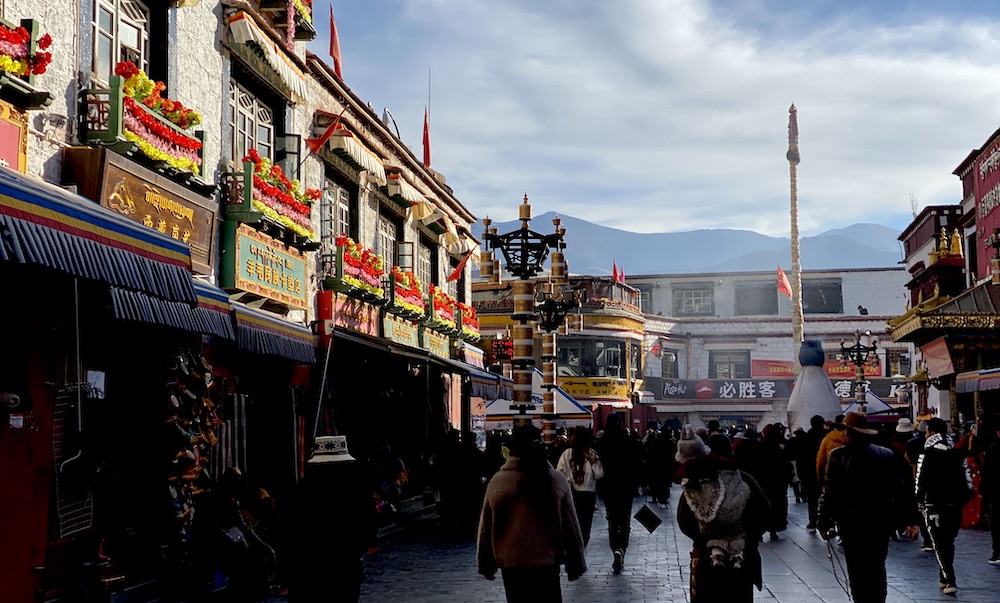 Canggu nunnery
After seeing the crowded market, our next stop will be the Canggu nunnery, "the only Buddhist nunnery in the old city of Lhasa." the temple is not large but very clean, beautiful, and well-kept.
Canggu Nunnery is especially famous for its underground cave. King Songtsen Gampo, a renowned Buddhist, once cultivated inside the cave, enshrines a statue of Songtsen Gampo. For centuries, this ancient sacred cave has welcomed tens of thousands of pilgrims from around Tibet to pray and chant.
Canggu nunnery also runs a clinic, a small shop selling petty commodities, and a tea house in addition to its unique religious dedication. Many travelers and residents would rest and enjoy the sweet tea made out of milk and black tea prepared by nuns while enjoying the small garden.
Laphing house
Last but not least, my favorite Laphing Dangta (gravy Laphing made of flour and water). It is one of the most famous local delicacies. Not only the youngsters but also the older generation enjoy this snack.  Laphing House provides one of the best Laphing in the whole area (my personal favorite); buy a local fried potato from anywhere and join in this small Laphing House. Dip the potato fries in the gravy Laphing and have a bite. It's heaven.