12 Days EBC Trekking
This trekking adventure within the alpine terrain of Himalayans and stretches to the base camp of world highest peak Mt. Everest(8844m) is one of the most challenging adventures on the Tibet plateau. You will be greeted by our representatives at your arrival and in the first couple of days, along with acclimatization to the high altitude and alleviating jet-lag, you will slowly visit to the supernatural Potala Palace, mystical Jokhang temple, sprawling Drepung and spiritual Sera monastery around the holy city Lhasa. Then it extend its way to the west, passing by the breathtaking views of marvelous Yamdrok lake and blooming Nyenchen Khangsar glacier, distinctive Tsang (western Tibet) cultural heartland Gyantse and Shigatse. The trekking start from Old Tingri where it offers a perspective of Mt. Everest and Mt.Cho Oyu in the south, the trail within the hilly Rachu valley across the Lamar la pass(5250m) to the Everest base camp offers superb panorama of the young Himalayans and lonely nomads family tents and villages within the moonscape valley are distinguished feature of the trip, the pictorial scenery of mighty Everest peak will be achieved after several days of challenge with the high altitude, overnight at the foot of Everest will offer the golden face of the peak under the morning sunshine.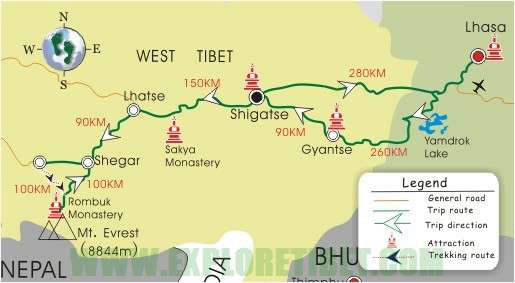 Trip at Glance:Trip Length:
12 days & 11 nights
Lodging available:
Hotels, Guest houses and Camping
Type of the trip: Cultural and wilderness trekking adventure
Transportation: 4WD, SUV, Van and Buses available
Trip Summary:
Day 01. Arrival In Lhasa Either By Air Or Train.
Attraction:
First Sight Of The Giant Potala Palace And Holy Lhasa City.
Day 02. Lhasa Escorted Tour.
Attractions;
Potala Palace And Jokhang Temple.
Day 03. Lhasa Escorted Tour.
Attractions;
Drepung Monastery And Sera Monastery.
Day 04, Drive From Lhasa To Shigatse 370km;
Attractions:
Yamdrok Lake, Glacier, Kumbum Monastery And Tashi Lhunpo Monastery.
Day 05, Shigatse To Old Tingri (4300m) 350km;
Attractions;
Tashi Lhunpo Monastery ,Sakya Monastery & Everest View.
Day 06, First Day Of Your Trek From Old Tingri To Namla (5250m)
Attractions;
The Traditional Houses Of Tibetan Villages & Rich Geographical Areas.
Day 07, 2nd Day Of Your Trek Namla To Junction (5000m)
Attractions;
Fascinating Views Of Himalayans And Lonely Nomads Families..
Day 08, Last Day Of Your Trek Junction To EBC.(5200m)
Attractions;
Picturesque Scenery Of Mighty EBC Peak And World Highest Rongbuk Monastery.
Day 09-10, EBC To Shigatse. 350km.
Attractions;
Golden View Of Everest Under The Morning Sunshine.
Day 11, Shigatse To Lhasa. 370km.
Day 12, Send-Off Day.
DAY 01 – 03. Our representatives greet your arrival at the airport/train station and it is a short drive to the holy Lhasa city along the Lhasa river within a valley enclosed by barren mountains, far before reaching to the city you will have the first glimpse of tremendous Potala Palace appearing out from the rest of the city by perching on the red hill. Then check in the hotel which is located in the old part of the town and which is also known as Tibetan area that centered by mystical Jokhang temple and the bustling Bakhor street. In the following couple of days we have thoughtfully arranged few but worthy visit to some world heritages and sites of breathing Tibetan Buddhists along acclimation and alleviating Jet-lag, you have plenty of time to walk shoulder to shoulder with devoted local pilgrims in the bustling Bakhor street, it is also a real pleasure to explore the busy cobbled lanes twisting around the aged buildings in the supernatural Drepung and Sera monastery, and our knowledgeable guides enhance your experiences with a thorough historical and cultural explanation. These days are flexible and easy to do on your own exploration around the town and hang around the Bakhor street during your leisure. In addition we do arrange special experiences of short visit to typical Tibetan village family or receive rare scared blessings from high lamas with local pilgrims per client's interest.

DAY 04 – 05. After couple of days acclimation, you are dare to drive over the Gampa la pass and Karo la pass to Gyantse and Shigatse in the western Tibetan plateau, along the upstream of the Brahmaputra river we climb up the Gampa la(4900m) through numbers of switch-backs, from the pass you will amaze by the breathtaking view of the holy Lake Yamdrok and snow capped Mt.Nyenchen Kangsar in the background, then further to Gyantse and Shigatse via bloomy glaciers and scattered villages. Both Gyantse and Shigatse are well known for its historical and religious value since from ancient time, Gyantse is known as hero's town as the British troops defeated by Gyantse guerrilla in 1904, more over, these regions has slightly different culture and tradition than in Lhasa, there we will Gyantse Kubhum stupa and Tashi Lhunpo monastery.
DAY 06 – 09.
Through the friendship highway, we will traverse several high passes and approach into the alpine terrain of Himalayans, pass through the border check point at Shegar(New Tingri) to Old Tingri, the small town of Old Tingri offers a fine perspective of Mt. Everest and Mt. Cho Oyu in the north, in the 4 days trekking within the moonscape terrains and mountainous Rachu valley, we will pass couple of isolated villages, cross the Lamar la pass(5250m) over alpine meadow and you will have a spectacular mountains panoramas from the ridge, then trace the river upstream along the bumpy road to Rongbuk valley. The trek ended at Rongbuk monastery and from there you can have the picturesque view of Mt.Everest peak.
DAY 10 – 11.
Retrace the bumpy road back to Shegar by traversing Gawu la pass(5250m) through numbers of switch backs, from the pass it offers a great panorama of great Himalayans with its mighty peaks of Mt.Makalu (8463m), Mt.Lotse (8516m), Mt.Everest (8844m), Mt.Cho Oy u(8201m) and Mt.Shishapama (8020m) from Left to right, then from Shigatse we will follow along the Brahmaputra river through the northern friendship highway to Lhasa and you have free afternoon for exploring in the bustling Bakhor street, you may need to buy some souvenirs for your family and friends at home.
Day 12. Today it is your last day on the Tibet plateau, we will appreciate if you can spent few minutes to evaluate our services for future improvement and you can either leave the feedback form to your guide or just write us a email, then we drive down to the friendship bridge which is the borderline to Nepal, you will meet with Nepalese escorts at the friendship bridge and cross the bridge to Nepal, after a short rest in the typical Nepal border town Datopani, we drive to Kathmandu and the trip ends at your arrival in Kathmandu. at your departure, your guide and driver meet you at the hotel lobby and transfer you to the airport/train station per your schedule. The trip is officially ended then.
___________________________________________________________________________________
Tour Cost Includes:
- All necessary travel permits to Tibet;
- Entrance ticket fees for all the sight spots listed in the program;
- Private transportation in Tibet: Ranging from 4WD land cruiser to bus depending on the group size and trip route (car gasoline is included),
SEE VEHICLE PHOTOS HERE
;
- Private guide: English speaking local Tibetan guide;
- Lodging: available from 5 star hotels to budget guesthouses,
SEE HOTEL PHOTOS HERE
;
- Pick-up and send-off services at the beginning/end of the tour;
- Oxygen canisters: 2 canister for each person;
- Lodging and meals for guide and drivers;
- First aid kit;
- Liability travel insurance;
- Basic camping gears: tents, mattresses and sleeping bags;
- Yaks and porters during the trekking days;
- Cook and cooking gears; (Optional)
- Full board meals during the trekking days; (Optional)
Tour Cost Excludes:
- Travel insurance covers trip cancellation and emergency evacuation(recommended);
- Expenses of a personal nature (alcoholic beverages, laundry, phone call, etc.);
- International and domestic flight/train.(Note: we accept flights and train tickets bookings in advance, please check the updated cost and ticket availability with your travel consultant);
- Meals that are not specified in the itinerary (Averagely a meal in Tibet cost USD5 per person);
- Gratuities for the guide and driver:
Update Feedback
David
Kalsang was excellent, as was Kunchok, However in the beginning the communication to the guide was not good- each new guide di
Christ feedback
Christ Lewington
Our guide is knowledgeable and good commend of English, extremely helpful and attentive to our needs. a superb guide.
20111227-P2 Tien
Tien Cao
Overall very enjoyable experiences, thanks to our knowledgeable and caring guide. We look forward to coming back next time.
Read More >>
Practice of Responsible Tourism
Our sense of responsibility
Fair trade and service guaranteed
Absolutely no forced shopping trips or tourist traps
Flexible and accommodating itineraries