11 Days Train tour from Xining-Lhasa
Xining is the capital of Qinghai province and a day trip to the breathtaking lake Kokonor is pure nomadic experiences, it is the largest salt water lake in China and its prominent religious value receives lots of pilgrims from the whole Tibet plateau, the train ride from Xining to Lhasa is the best part of the scenery that offers spectacular views of snow caped peaks and bloomy glaciers from the Thangula ridge (5072m), endangered wild lives like Tibetan antelopes by traversing the Kekexilin Wildlife Reserve, lone nomad families dwelling black tents and scattered villages in the isolated Changthang (Northern plain), and your arrival at the holy city Lhasa will greet by its fair blue sky and glimpse of Potala palace perching on the red hill, in the following days, you will be overwhelmed by mystical buildings and temples which reflects rich culture and tradition of the ancient city, moreover, it is a great pleasure to mingle into the bustling Bakhor street with devoted pilgrims.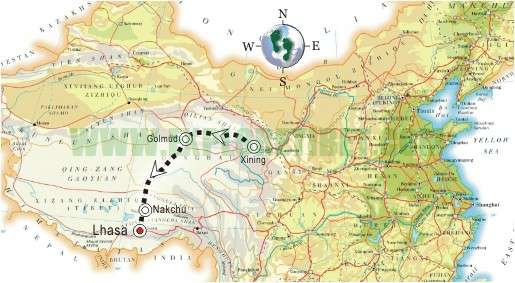 Trip at Glance:
Trip Length: 11 days & 10 nights
Lodging available:
Both Hotels and guesthouses
Type of the trip:
Long train ride to Tibet and easy spiritual expereinces
Transportation:
4WD, SUV, Van and Buses available
Trip Summary:
DAY 01. ARRIVAL IN XINING BY AIR/TRAIN.
Today you will be greeted by our local guide and driver at the airport/train station, then transfer you to the hotel to rest and acclimate the plateau environment, Xining is the capital of Qinghai province with altitude of 2295m. Rest of the day you can explore around the town and take easy for the day. Overnight in Xining.
DAY 02. XINING ESCORTED TOUR AND BOARD THE TIBET TRAIN LATE IN THE AFTERNOON.
Attractions; Stunning view of Kokonor lake (Qinghai Lake) and beautiful nomadic surrounding with blossomed flowers.
Today our local guide and driver meet you at the hotel and then drive to Kokonor lake, it is 151km west from the city, it takes less than 2 hours, Kokonor lake is largest salt water lake in China and the surrounding nomadic environment is beautiful with blossomed rapeseed specially in June and July. Then we will drive back in the afternoon and catch the flight to Lhasa that depart late in the afternoon around 7p.m. You may have few hours repacking time at the hotel and then our guide and drive deliver you to the train station per the train schedule.
DAY 03. ARRIVAL IN LHASA.
Attractions; Perennial snow covered Thangula ranges, Tibet northern lakes and vast pastures, lone wild animals and scattered nomads families.
Today we will cross over the mighty Thangula ranges at mid night around 2a.m. with altitude of 5072m set the world highest train, rest of day you will impress by the vast pastures and plains with sparsely populated nomadic region, then finally you will get to the terminal station as Lhasa in the afternoon, there our local Tibetan guide and driver will greet for your arrival and transfer to your hotel in Lhasa city, from the train station it is only 25km and it takes about half hour, check in the hotel and take it easy for the rest of the day to acclimatize and alleviate the jet lag. Overnight in Lhasa.
DAY 04. LHASA ESCORTED TOUR.
Attractions; Potala palace, Jokhang temple and bustling Bakhor street.
Today is the your first day on the high plateau and some of you may have little head ach which is very common for travelers by the high altitude, so drinking enough water and mild activity on the first few days is important. In the morning our guide will meet you at the hotel and take an easy visit to Jokhang Temple in the centre of the Old Lhasa city. Jokhang temple is the most scared temple in all over Tibet and it is always bustling with earnest local pilgrims. After you visit inside the temple you have time to walk around the Bakhor street which is the one of the most devotional circuit as well as crowded central market of Lhasa since from long time, in the early days it is the most famous local market but now it is changed to tourist gift shopping centre. In the afternoon we will visit the famous Potala Palace, the cardinal landmark of Tibet and the masterpiece of Tibetan architecture, it was first built by 33rd King Songtsen Gangpo in 7th century and later in 17th century rebuilt by 5th Dalai Lama, since then it was home to the Dalai Lama and his government. Continues acclimatize and alleviate jet lag rest of the day. Overnight in Lhasa.
DAY 05. LHASA ESCORTED TOUR.
Attractions; Drepung monastery and Sera monastery.
Today we will visit Drepung Monastery in the morning, once the world's largest monastery that housed for more than 10,000 monks, it was resident of the Dalai Lama prior to Potala Palace, destructions were taken place in different time but still you have lots things to see, walking through numbers of narrow and twisted lane through the monks apartments is more like a typical village. The amazing day will ended with a visit to the Sera Monastery, it is built in the fifteenth century by the Jamchen choji Sakya Yeshi who is disciple of Tsongka pa, few different monastic colleges in Sera is home to several hundred monks from different part of Tibet, the famous Buddhist philosophical debates among the monks are happening everyday in the afternoon except Sunday. Continues acclimatize and alleviate jet lag rest of the day. Overnight in Lhasa.
DAY 06. LHASA-TSEDANG-SAMYE MONASTERY(3500m), 220km, 6hrs.
Attractions; Fertile Yarlung valley-ancient Tibet capital, Samye monastery.
Today we will drive southern part of Tibet to Samye monastery, we will stop at Tsedang for lunch, Samye monastery is the 1
st
ever Buddhist monastery in Tibet which was build in 7
th
century during the regime of King Trisong Desen, it exist for centuries despite of culture revolution and other means of destruction in different period of time, the Manadala design monastery is beautifully located at the Northern bank of the Brahmaputra river, in the small valley mingled with villages around, visit Samye Tsuglhak Khang at the arrival and you may have a short hike up on the Hepu hill close from the monastery, Hepu hill has a very prominent historical value as in the 7
th
century when Samye monastery was first built, lots obstacles by Bon devils made it failed several times, finally Indian Guru Padmasambhava had controlled all the devils on the Hipu hill and punished with a stone rainfall. Overnight at Samye monastery guest house.
DAY 07. SAMYE-CHIMPU HERMITAGE-TSEDANG, 2hrs, 50km.
Attractions; Chimpu nunnery, Yogis in the caves, Yumbo Lhakang, Tramduk monastery.
Today we will drive back toward Tsedang, en route we will drive to Chimpu hermitage, there were several caves that Guru Rinpoche and Khangdo Yeshi Tsogyal(one of three consorts of Guru) mediated in the 7
th
century and since then it became very famous for retreatants and hermits from different part of Tibet, after visiting the nunnery at the bottom of the hill we will hike up through the caves to experience the life of Tibetan yogis, you may get chance to interact with some yogis if you are lucky. Afternoon drive back to Tsedang, Tsedang is the cradle of Tibetan civilization and capital of Tibet prior to Lhasa, so we will visit the 1
st
King's palace Yumbu Lhakang there, which is only few kilometer south of the town. Overnight in Tsedang.
DAY 08. TSEDANG-GANPA LA PASS(4900m)-GYANTSE (3900m), 7hrs, 380km
Attractions; Yamdrok lake, Mt.Nyechen Kangsar glacier, Gyantse Kubum stupa and Pelkhor Choede monastery.
Today we drive upstream of the Brahmaputra river to Gyantse, after passing numbers of Tibetan towns villages we will climb up the Kampa la pass (4700m) through a distorted road, right from the top of Gampa la pass you will have the first glimpse of the breathtaking view of the holy Yamdrok lake with its turquoise color deep within the mountainous valley, then continues drive along the lake for few kilometers. En route we will stop at Karo la (5150m) to see the holy mount Nyenchen Kangsar glacier. The rest of the day will be spent enjoying the many magnificent valleys and exquisite Tibetan villages that we pass through. Arrival at Gyantse we will visit Kumbum stupa and Palkhor Choede monastery.This magnificent multi-door structure is the largest stupa in Tibet, it is not only well known for its architecture but also its old sculptures and paintings all around the inner walls have centuries of history. Overnight at Gyantse.
DAY 09. GYANTSE-SHIGATSE(3800m), 90km, 1.5hrs.
Attractions; Villages and farms, Shalu monastery, Tashi Lhunpo monastery.
Today it is short drive to Shigatse on a very good road, en route we will visit Shalu Monastery which is the seat of Buton Rinchendrub(1290-1346) who was the great codifier of the Tibetan translations of the Indian Buddhist canon, Shalu monastery is the only one that combines Tibetan and Chinese styles in its design, though the whole monastery gone under several renovations in different period but the green tiled Chinese style is clearly visible in these days. afternoon drive to Shigatse and visit Tashi Lhunpo monastery, Tashi Lhunpo monastery is built by the 1
st
Dalai Lama-Gedun Drup in 1447 and later it became the seat of the Panchen Lama lineages, there you will see tombs of 7 passed Pachen Lamas lineages. Overnight at Shigatse.
DAY 10. SHIGATSE - LHASA, 280km, 4/5 hrs.
Today we will drive back to Lhasa along the northern friendship highway, the road cuts through numbers of villages and we will stop at Nyimo local home based incense factory, this region is well known for their incense production since centuries ago, they use primitive water operated tools to process incense materials and each incense sticks are hand made, you may see locals making it on the spot, then we will arrive in Lhasa later in the afternoon and you have plenty of time to explore around the Bakhor to shop gifts for your families and friends at home. Overnight in Lhasa.
DAY 11. LHASA AIRPOR/TRAIN STATION SEND OFF.
Today our guide and driver will send you to the airport or train station and it is time to say your farewells and depart to your next destination. The trip end officially.
____________________________________________________________________________________
Tour Cost Includes:
- All necessary travel permits to Tibet;
- Entrance ticket fees for all the sight spots listed in the program;
- Private transportation in Tibet: Ranging from 4WD land cruiser to bus depending on the group size and trip route (car gasoline is included),
SEE VEHICLE PHOTOS HERE
;
- Private guide: English speaking local Tibetan guide;
- Lodging: available from 5 star hotels to budget guesthouses,
SEE HOTEL PHOTOS HERE
;
- Pick-up and send-off services at the beginning/end of the tour;
- Oxygen canisters: 2 canister for each person;
- Lodging and meals for guide and drivers;
- First aid kit;
- Liability travel insurance;
Tour Cost Excludes:
- Travel insurance covers trip cancellation and emergency evacuation(recommended);
- Expenses of a personal nature (alcoholic beverages, laundry, phone call, etc.);
- International and domestic flight/train.(Note: we accept flights and train tickets bookings in advance, please check the updated cost and ticket availability with your travel consultant);
- Meals that are not specified in the itinerary (Averagely a meal in Tibet cost USD5 per person);
- Gratuities for the guide and driver;
Update Feedback
David
Kalsang was excellent, as was Kunchok, However in the beginning the communication to the guide was not good- each new guide di
Christ feedback
Christ Lewington
Our guide is knowledgeable and good commend of English, extremely helpful and attentive to our needs. a superb guide.
20111227-P2 Tien
Tien Cao
Overall very enjoyable experiences, thanks to our knowledgeable and caring guide. We look forward to coming back next time.
Read More >>
Practice of Responsible Tourism
Our sense of responsibility
Fair trade and service guaranteed
Absolutely no forced shopping trips or tourist traps
Flexible and accommodating itineraries